St. Mary's College, (now University) located in Winona, Minnesota, is my alma mater from whence I was graduated in 1977 with a degree in philosophy and classical humanities. Today is the 100th anniversary of the laying of the cornerstone of St. Mary's Hall.
At its inception, St. Mary's was a diocesan college for men. In the 1930s, it was turned over to the Christian Brothers who to this day continue to provide excellent leadership and oversight of its several campuses. St. Mary's has gone from a small men's college to a good-sized co-ed university with Minnesota campuses in Winona, Rochester and Minneapolis,  and a campus in Nairobi, Kenya.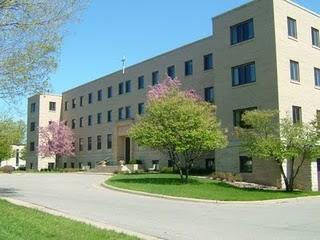 Located on the Winona campus is the Immaculate Heart of Mary Seminary which is comprised of two halls: Kelly and Leo. It is a college level seminary training men from many dioceses for entrance into theology school and diocesan priesthood. The seminary was part of St. Mary's from the beginning, although it was physically located in St. Mary's hall in the early years until Kelly hall was built in the 1940s.
My hat is off the St. Mary's! Live, Jesus, in our hearts forever!
Below is a press release from St. Mary's:
Today, May 30th 2012, marks the 100th anniversary of the laying of the cornerstone for Saint Mary's Hall on Terrace Heights in Winona, Minnesota. From its humble beginnings as a diocesan college for men, over the course of its first century, Saint Mary's has grown into a top-tier national university and a dynamic and transformative learning community.

As a Lasallian Catholic university, today Saint Mary's is a living expression of the vision of John Baptist de La Salle, inspirational 17th century educational innovator, patron saint of teachers, and founder of the De La Salle Christian Brothers.

To mark this special day, a flag is being flown above the U.S. Capitol today. This flag will be presented to Brother William Mann, university president, at the Saint Mary's Centennial Launch and Cornerstone Commemoration, June 23, on the Winona campus.

You are invited to take a moment and read the following prayer written to mark this occasion at Saint Mary's. The Centennial Prayer can provide an opportunity for us to pause and reflect on the joy of this milestone event and the ways in which the University continues to be relevant in our lives.
Centennial Prayer
Saint Mary's University of Minnesota
May 30, 2012
+ Let us remember that we are in the Holy Presence of God.
Good and gracious God, we praise you and thank you for your bountiful blessings upon the Saint Mary's community over these 100 years.
You inspired Bishop Heffron to found a Catholic college for men on Winona's Terrace Heights, today a university serving students, men and women, across the globe. Your providence led Brother Leopold to bring the Brothers and the Lasallian mission to Saint Mary's.
For 100 years, Saint Mary's students, Redmen and Cardinals, have been the beneficiaries of an education rooted in your love and care for your people. 
Fill us with your grace as we commit ourselves to a new century of service as a dynamic and transformational learning community.
Enriched by our Lasallian Catholic heritage, we pray that Saint Mary's University may continue to awaken, nurture, and empower learners to ethical lives of service and leadership.
Bless our celebrations of the past and present, fill us with hope for the future, and inspire all who share in the good and holy work of Saint Mary's University.
Saint John Baptist de La Salle, Pray for us!
Mary, Patroness of our University, Pray for us!
Live Jesus in our hearts, Forever!