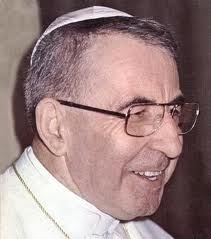 I didn't have time yesterday to write this post. Yesterday, August 26, was the 37 anniversary of the election of Albino Luciani as Pope John Paul I. As any of you who frequent this weblog know, Luciani is dear to my heart for many reasons. His memory is fading quickly in the minds of most people with the passing of the years. He seldom is mentioned by those more prominent religious commentators of whom we read in the media, and perhaps even more seldom mentioned among the clergy at large.
I think part of the reason for this silence among the clergy has to do with a change in the understanding of Vatican II among those clergymen formed since the 1990's. Prior to that time, there was a vision of Vatican II that predominated the landscape, a vision that was reformed in the latter years of John Paul II's pontificate and during Benedict's. Luciani was the personification of what I believe Vatican II set out to do. I do not mean any disrespect to John Paul II or Benedict (for they too, I believe, personify what Vatican II set out to do, each in his own way) but I do not think we can full appreciate the teachings of Vatican II without placing Luciani alongside of his two successors.
Luciani, in so many ways, was a promise of the coming of Francis, who we are coming to know to be the summation of John Paul II and Benedict. It may be true that the media portrays Francis as a break from the papal culture since 1978, but I don't see it that way. I grant you I am a bit biased in my evaluation of Luciani because of my affection for him, but  I submit for your consideration that when Luciani said his pontificate would be brief and that another would come after him perhaps Luciani was prophetic and unwittingly alerting us to the coming of a pope from Argentina with roots in Italy, i.e., Bergoglio. Perhaps Luciani was the foretaste of Francis.
I have written before that John Paul II carried out John Paul I's papacy in his own way. You see that in the pastoral urgency with which John Paul II carried out his Petrine ministry to the entire people of God. You see it also in John Paul II orthodoxy, an orthodoxy shared by John Paul I. Many think John Paul II and Benedict were intellectual heavyweights and John Paul I a lightweight. Anyone who has read Luciani's writings will disagree with that assessment. Many will say Luciani was a liberal in regard to the moral life and John Paul II and Benedict were conservatives. Anyone who has read the writings of these men will disagree. All were men of the Church and faithful to Church doctrine and the moral life.
Luciani, on that day of his election, which I so vividly recall, stepped out onto the main loggia of St. Peter's, and with a quivering voice blessed the world and in doing so offered a plenary indulgence to those present. He continues to bless the world, I believe, from a place in heaven, interceding for us that God extend his mercy to all his people.
Someday, Luciani will be numbered among the canonized of the Church. When that day happens, I hope I am able to be there in the piazza di San Pietro, to celebrate!