I was honored this past week to preach the canonical retreat for the candidates for diaconal ordination from the Archdiocese of St. Paul and Minneapolis. Prior to ordination, all men to be ordained must make a five day retreat. The seven men, along with their class dean and formators, made their retreat at New Melleray Abbey near Dubuque, Iowa. Below is a glimpse of their main chapel.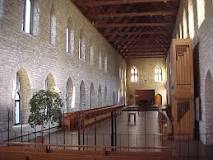 New Melleray is a Trappist monastery founded in 1849 in the rolling hills west of Dubuque. For over 150 years, the monks there provided for themselves by farming. In recent years the farmland has been rented out and they now bring in needed revenue by making Trappist Caskets.
The retreat was a blessed experience for all of us, me included. The theme was the gift of faith, and my reflections on the various aspects of faith that I gleaned from my reading of the Holy Father's encyclical Lumen Fidei and his apostolic exhortation Evangelii Gaudium. 
I just love doing these retreats when asked. My own faith is deepened as I witness the growth and fervor of deacons and deacon candidates. The men from St. Paul will be welcomed additions to the diaconate community following their ordinations in December.
May God continue to bless them richly!