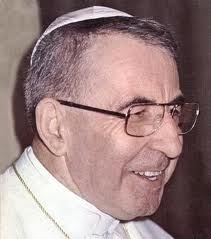 In the early morning hours of September 28, 1978, Pope John Paul I died in his sleep. I was in Wiesbaden, Germany at the time, and I remember waking up that day and one of the Army base women telling me shortly after breakfast that the pope had died. I, and everyone else, was stunned. Just a couple of weeks prior I had preached my first homily from the Army base pulpit on his election and his installation Mass. Now, I was facing the reality of his death.
My immediate thoughts also were how I was going to return to Rome as soon as I could. My commitment to the U.S. Army as a chaplain's assistant was only a couple of days from being completed. So I hopped the first train I could…. I believe it was October 1, and took the 16 plus hour ride back to Rome to take in all that was to follow.
How much I miss Luciani, even today.
He will soon be declared venerable, then blessed, and then I am confident, St. Pope John Paul I.
Papa Luciani, pray for us!