The 100th anniversary of Pope John Paul I's birth is occuring later this year.  As it is celebrated in his home town in Italy, and plans for a celebration underway here in the United States (at Fordham University most probably), there is a prayer that has been written.The magazine Humilitas, I have been informed, has published it. Here it is: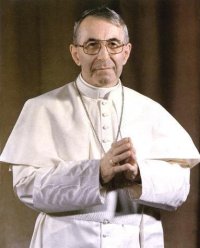 PRAYER FOR THE CENTENARY

Lord, Omnipotent and eternal God, we admire the marvels that You Grace works in your children. Today we bless you for the love You have poured out on Your Servant, Pope John Paul I, by calling him to life, to Your friendship, to serve You as pastor and as Your Vicar for the Universal Church. As we inaugurate the centenary year that recalls the history of his life in the light of your Providence, which guides men and events toward the encounter with You, from the testimony of life of John Paul I, a living image of Jesus, the Good Shepherd, help us to draw on those gifts that make us your children and disciples of Christ: from his faith and serenity we want to learn to abandon ourselves to You with the heart of a child; from his generosity, we want to learn to say "Yes" to everything You ask of us; from his love for the simple and the little ones, we want to learn to serve everyone who needs us. Father in Heaven, we humbly ask you to glorify in your Church Your Servant John Paul I, so that, through his intercession and his example, we may all draw on and give, with humility and simplicity, the light and love that radiate from You. Through Christ out Lord. Amen.
Let us pray that Papa Luciani's cause of beatification advance with haste so that we might one day soon witness too his canonization as a Saint.