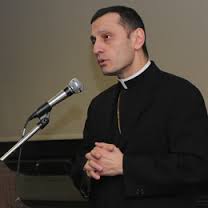 At noon, Rome time, today the Holy Father appointed Bishop Frank J. Caggiano bishop of the Diocese of Bridgeport. Until now, Bishop Caggiano was an auxiliary bishop in the Diocese of Brooklyn.
Bishop Caggiano was born in Brooklyn on March 29, 1959 and studied theology at Immaculate Conception Seminary in Huntington, New York. He was ordained a priest in 1987. He then went on to obtain a Doctorate in Sacred Theology from the Pontifical Gregorian University in Rome in 1996. He was ordained a bishop in 2006.
Congratulations, Diocese of Bridgeport!