The Holy Father this past weekend canonized Mother Marianne Cope, OSF. She, along with St. Damien of Molokai, cared for the lepers of Kalaupapa on the island of Molokai in the late 1800s into the early 1900s. After Damien died of leprosy, she and her sisters carried on his ministry.
The people of Molokai went en masse to Rome for the canonization Mass, led by Bishop Larry Silva of Honolulu. In preparation for the canonization, St. Francis Church  in Kalaupapa received a new roof and a paint job to the tune of over $350,000. I recall vividly my pilgrimage there earlier this year, and learning for the first time about St. Marianne Cope.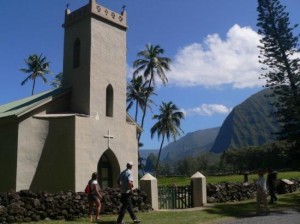 There is another church on Kalaupapa (St. Philomena, built by St. Damien) and the chapel of St. Elizabeth. I was unable to visit the chapel, as it is reserved I believe for the sisters, but St. Philomena was inspiring to say the least. It had been brought back to its original state a few years ago when St. Damien was canonized.
We rejoice with the people of Hawaii, especially those living on Molokai for they now have two saints who lived and worked on this small island.
St. Damien and St. Marianne Cope, pray for us!