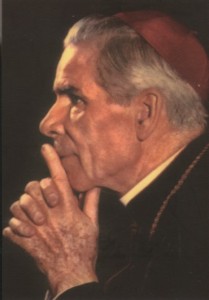 The cause for canonization of Archbishop Fulton J. Sheen may be one step closer to completion.
On September 16, 2010, James Fulton Engstrom was born, but for the first 61 minutes after birth, he had no heart beat. Just when the doctors were going to declare him stillborn, his heart began to beat. The doctors told the parents, Travis and Bonnie Engstrom, that James would have lasting medical problems, but after one year, he is doing very well.
The Engstroms assert that this a miraculous healing due to the intercession of Archbishop Sheen.
A tribunal has been establish to investigate all of this. If, after a lengthy process, it is found that this in fact is a miracle, Sheen will be one step closer to canonization.
As you probably know, Archbishop Sheen was a very popular television host, a powerful preacher and orator, whose television serial was extremely popular with both Catholics and non-Catholics during the late 1950s and 1960s. He was ordained a priest for Peoria, Illinois, later ordained bishop and led the diocese of Rochester, New York for several years, and still later was named titular archbishop of Neoportus. His cause for canonization was opened in Peoria in 2002.
Bonnie Engstrom has said, "I believe it was Sheen's intercession that played a key role in it, but it was Jesus who healed my son. It was for his greater honor and glory."
Read the report at: www.catholicnews.com/data/stories/cns/1103740.htm