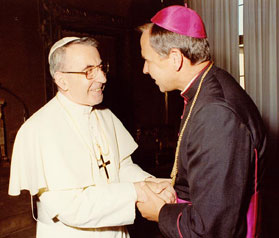 Thirty-three years ago, on September 21, 1978, Pope John Paul I spoke to a group of American bishops from Region XII (Northwestern United States) during their ad limina visit to Rome. The bishops were also at the North American College where I was living at the time, and I vaguely recall their presence among us during those weeks.
John Paul I focused on the family in his address. Here are some excerpts:
Let us never grow tired of proclaiming the family as a community of love: conjugal love unites the couple and is procreative of new life; it mirrors divine love….. is actually a sharing in the covenant of love of Christ and his Church…we must encourage parents in their role as educators of their children….families… the power they have for the sanctification of husband and wife and the reciprocal influence between parents and children…It is up to us to keep this realization strong, by supporting and defending the family – each and every family. Our ministry is so vital: to preach the world of God and to celebrate the Sacraments. It is from them  that our people draw their strength and joy. Ours too is the role of encouraging families to fidelity to the law of God and the Church. We need never fear to proclaim all the exigencies of God's word, for Christ is with us and says today as before: "He who hears you hears me." In particular, the indissolubility of Christian marriage is important; although it is a difficult part of our message, we must proclaim it faithfully as part of God's word, part of the mystery of faith. At the same time we are close to our people in their problems and difficulties. They must always know that we love them…. The holiness of the Christian family is indeed the most apt means for producing the serene renewal of the Church which the Council so eagerly desired. Through family prayer, the ecclesia domestica becomes an effective reality and leads to the transformation of the world.
You can read the entire speech in English at:
www.vatican.va/holy_father/john_paul_i/speeches/documents/hf_jp-i_spe_21091978_us-bishops_en.html
As he said, it is up to us to support and defend the family, every family. We all know that family and marriage are under a barrage of blows to their very foundation in today's environment. Papa Luciani reminded us that to renew the world we must support and nuture the family, for to do so is in fact nuturing and supporting the Church.
By the way, this was the only ad limina visit from American bishops that occurred during Luciani's papacy.
Papa Luciani, pray for us!