Again, many weeks actually have elapsed since my last original posting. I have been busy preparing to preach two retreats, the first in just a couple of weeks and the second later this summer. Both are rather major events, and I am excited to be ministering to my brother deacons and their wives in this way.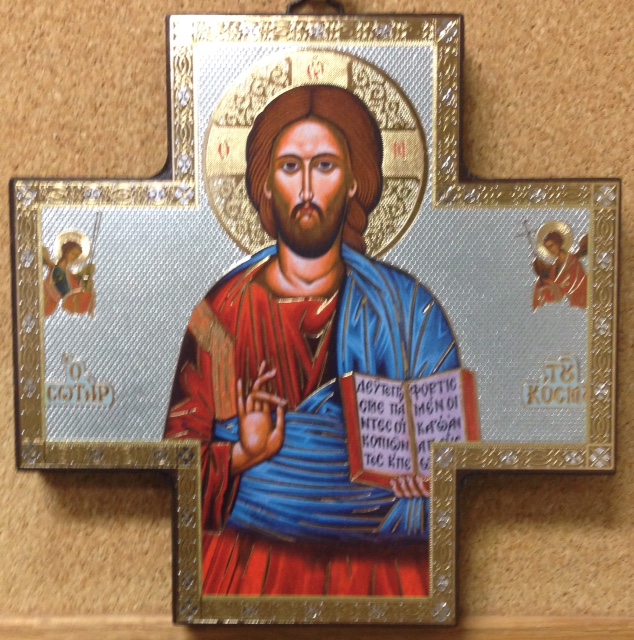 I have placed in my office a new icon. It's presence is a constant reminder of who I serve in this life, and His watchful care and guidance throughout my day. A silent reminder, but speaking in a  manner that conveys a certain peace for which each of us search.
I have been thinking about three questions that were proposed to the deacon directors at their annual NADD convention in Minneapolis a short while ago, namely: 1. What do you work for? 2. What are you working toward? 3. With whom or in what do you rest and find leisure? Interesting questions. What motivates me to attend to the duties of my work life? Where is my work taking me? Do I find true leisure in life, and with whom or in what, and how is that different than mere "entertainment" or "diversion." I guess the fourth question that needs asking is, "How do I integrate work and leisure in life?" This question is in contrast to the question so many ask, i.e., "How do I balance work and leisure?" The "balance question" is a treacherous one to ask because it invariably puts into opposition work and leisure, whereas the "integration question" leads one to consider their seamlessness, or at least trying to accomplish that. So many of us work just for a paycheck (as important, good and needed that may be) and we scarcely ask  ourselves what value(s) are being pursued in our work  (where is my work taking me). Far too many of us find "leisure" in distracting entertainment rather than in personal encounter and self-awareness.
With the continual drumbeat of news on the social front, especially regarding sexuality, gender and marriage, one has a hard time remaining hopeful for our society's health and well-being. I am frankly amazed that so many so quickly have been misled and confused by faulty thinking and erroneous assumptions and ideas. To some extent I fault  our educational institutions for failing to teach students critical thinking skills, and how to recognize arguments lacking validity and conviction. I think we must fault the Church for falling short in her articulation of truth in a convincing manner comprehensible to the contemporary man and woman. Pope Francis has mastered this, and I hope with his leadership we turn this around.
Of course, we must not dismiss Satan and his influence throughout all of this. Not a fun thought, but an important one. How often do we pray for protection from his deceptions?
My hope is that today, each of you find a day of peace and rest. God bless all of you!